This is a tale of Visions and Signs from God, and of the Tiger Who Came to Tea – eventually.
Jesus?
Throughout history, signs and visions from a God or gods have been reported in all sorts of places: lights and cloud formations in the sky, entrails, tea leaves (in pre-teabag days!) and other natural phenomena. They often lead to amazing acts of bravery or compassion – sometimes even to being burned at the stake.
Here's a fairly typical example of a miraculous "vision" which made the press a few years ago: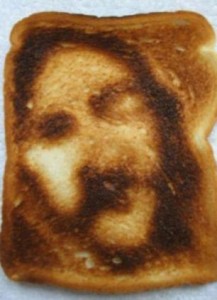 Yes – it's a representation of a classic portrait of Jesus – on a slice of toast.
Now look at this picture: It's just a random set of dots. But, now watch this short video:
We can't help but "see" moving human figures doing a variety of actions: it's just moving dots. But our brains are very good at joining the dots. What's going on? Why do our brains trick us in this way?
Tiger?
In evolutionary timescales, it's but a blinking of an eye since our hunter-gatherer days.
Imagine a scene from this period. Times are hard for the tribe. Food is scarce. Two hunters are out looking for food to kill. In the middle distance, Hunter A notices a movement in the bushes. The subtle changes of light and dark patterns in the leaves and branches alert him instantly. It's the tell-tale pattern of movement of a tiger on the prowl. He runs for cover. Hunter B notices nothing and carries on hunting.
Nothing happens. It's just the wind in the trees.
The same story is repeated for ninety-nine days. Hunter A is hungrier and more tired than his companion, because of all the unnecessary running around. But on the hundredth day, there really is a tiger!
So the moral of this tale is:
Hunter A, tired and hungry though he is, goes on to pass on his genes to his children.
Hunter B is eaten by the Tiger Who Came to Tea on the hundredth day.
And that, dear reader, is an example of what Charles Darwin first called "natural selection".