Philip Green, owner of retailer BHS from 2000 to 2015, is about to take delivery of a £100 million 90m-long luxury yacht. I'm sure it will look very impressive moored next to his other two yachts. Presumably he also has time to take a ride on his speedboat, private jet and helicopter as well. Handy for those commutes between London and his Monaco tax haven.

Green paid £200m for BHS and sold it for £1 to a City group headed by Dominic Chappell, twice bankrupt and with no retail experience. But don't worry, Green doesn't seem to have suffered too much. Within 4 years of buying the company, his wife was paid £400m in dividends. Over the 15 year period, the Green family received income totalling £586m. At the start of his tenure, the BHS pension fund was in surplus by £5m. The company's pension fund deficit now stands at £571m, valued on the basis the company is insolvent.
Chappell lost no time in profiting from the ownership of BHS. It paid £25m to Retail Acquisitions, the company that bought BHS and which is 90% owned by Chappell. The £25m is a mixture of management, legal and professional fees, salaries and interest payments.
BHS was founded in 1928. It is now in administration.  11,000 employees await anxiously their fate: will a buyer be found so they can keep their jobs? If the company goes under, the pension deficit will be taken over by the government-backed Pension Protection Fund. Under the terms of the takeover, future BHS pensioners will take a cut of at least 10% in their pension payments. Iain Duncan Smith will now doubt blame the 11,000 former BHS staff as scroungers who made the "lifestyle choice" of choosing to work for morally bankrupt billionaires. This is, of course, if he takes time off from campaigning for the UK to leave the EU. If we leave, Britain will then have a free hand to weaken employees' rights even further.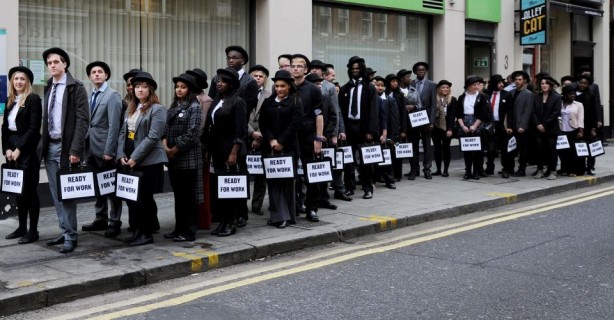 One Pound, One Vote
I distinctly remember, a year or two ago, discussing the consequences of our government's continuing economic policy of free market fundamentalism. I said that, over time, it inevitably leads to a situation where there are too many luxury yachts and too few teachers, doctors and nurses. By "too many, too few" I meant when compared with the public's preferences if asked directly. The reason is simple. In a market-based economy, money talks. Gradually over time, the "invisible hand" of billions of transactions shifts the priority for the provision of goods and services ever more towards the needs of the super-rich and away from the rest of us. It's hard wired into the logic of markets.
At a time when hospitals are clocking up record deficits and record shortages of medical and teaching staff are being reported, my comment – intended purely as a rhetorical device – appears to be coming literally true. What a morally despicable world we seem to have created.