Theresa May is reported as taking the lead in consolidating the anti-Russia alliance of nations against "fake news" and propaganda (particularly via social media).
Common Ground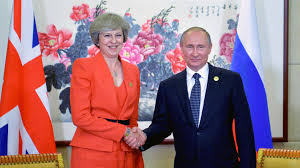 This seems like sensible politics. All the UK's European allies, and several other countries, were convinced at Russia's guilt in the Salisbury poisonings and were very supportive. This obviously included the "sanctions" of sending home diplomats. Russia's response has been harsh words but no real action. Within the UK, there has been genuine bipartisan support. Pretty much everyone agrees that Russia is a key source of fake news. So far, so good.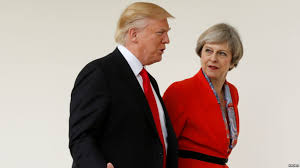 There is, however, a major flaw in May's approach. Her sycophantic approach to the US President, first in her dash to Washington soon after Trump's inauguration, her offer of a state visit (subsequently downgraded to a working visit to avoid protests) and her continuing support for Trump's deceptions are very worrying. The adoption of the hardest of hard terms and her silly red lines – to appease the Dunce minority in her party – in the negotaitions with the EU leave Britain hopelessly exposed to a man "not morally fit" to be President (so said James Comey, former FBI chief, on April 15th).  [At the time of writing this, The UK Government has not responded to Trump's lies about knife crime and blood-covered floors at a prestigious London Hospital. This was in part of his love-affair speech to the National Rifle Association yesterday. Martin Griffiths, the apparent source of the Trump story (in an interview recently for Radio 4's Today programme), has replied on Twitter. He said he is happy to invite Trump to visit his hospital to see the success in reducing knife crime. Will May speak out? We'll have to wait and see.]
And the UK Government has got quite skilled in generating Fake News of its own.
Fake News: An Example
The most recent, and egregious, example is the success the Government propaganda machine had this week getting the NON-STORY about Breast Cancer screening top billing on  BBC TV and Radio and front page headlines in all the newspapers on 3 May.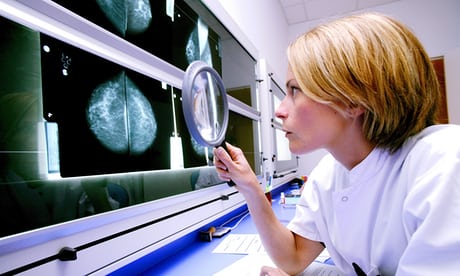 The (inconvenient to Government) facts, given in detail below from the Guardian on 3 May, can be summarised as follows:
Running trials of this type has 3 effects:

It costs money
A few women have their cancer detected earlier and this reduces the risk of an early death
Several more women will get "false positive" results and will undergo unnecessary distressing surgery, chemotherapy and/or radiotherapy.
Following some inconclusive Scandinavian result, NHS England set up a project: AgeX to see if offering routine screening to younger and older women was cost-effective. The objectives of the trial are reproduced from the Official AgeX website.
"The National Health Service (NHS) routinely offers breast screening every 3 years to all UK women aged 50-70. In 2012, an independent panel concluded that, while routine breast screening at ages 50-70 confers significant benefit to UK women, the advantages and disadvantages of starting breast screening at younger or older ages were uncertain. The AgeX trial will assess reliably the risks and benefits of offering an extra screen to women aged 47-49 (who will all be offered routine screening anyway three years later) and, separately, of offering additional screening to women after age 70 (who will already have been offered routine screening every 3 years at ages 50-70)."
At most, 40,000 women lost out on an offer of an extra screening, not 450,000.
There was NO COMPUTER ERROR: it was all part of the trial's design with a control group to make the results statistically valid.
There was nothing for Jeremy Hunt to apologise for!
If AgeX had screened all women over 68, about 200 would have been correctly diagnosed earlier with breast cancer. 30 would die within 5 years, but only a small fraction of this number, unknown and unknowable, would have been saved by earlier screening. Another 600 would have undergone unnecessary treatment because of the "false positive" effect.
Nobody in the know recognises Hunt's 135 to 270 deaths figure.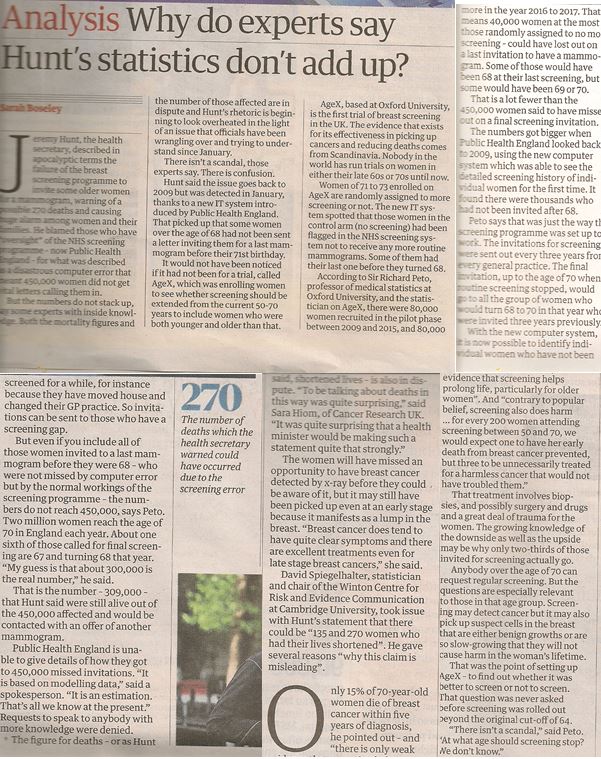 A Mathematical Joke
As a maths graduate who spent the first seven years of his career in statistics and computer modelling, I am confident of the numbers. So let's have an old mathematical joke to break the boredom.
An astronomer, a physicist and a mathematician were travelling by train through Scotland. They notice a black sheep in an otherwise empty field. The astronomer says: "Look! All the sheep in Scotland are black!" "No, no!" says the physicist. "All you can say is that SOME of the sheep are black." There is an awkward silence. It lasts no more than a second or two, but seems much longer. The mathematician raises his eyes skyward, a look of utter contempt on his face. He intones, in a flat, monotonous voice: "In Scotland, there exists at least one field which contains at least one sheep, AT LEAST ONE SIDE OF WHICH is black."
Mathematicians laugh at the joke. Everyone else laughs at the mathematicians for finding it funny.
Meanwhile, back to the politics.
Burying Bad News
Some clever person in 10 Downing Street (i.e. an adviser, not May!) obviously decided they wanted to bury some bad news on 2 May. It wasn't the local election results, which were inconclusive and proved nothing. So my guess is that the bad news was this: May's inner War Cabinet met to hammer out which of two competing options they wanted to create a (near) "seamless" border in Ireland. Both options had been rejected as unworkable, "magic" even, 18 months ago, and again rejected in early March. Barnier gave the UK until 18 April to come with a non-magical solution: the date has obviously been fudged a bit and the Cabinet meeting on 2 May was meant to sort this out: it didn't. So my guess is that the Government needed blanket coverage of something else, and the non-news about breast screening worked like a dream.
So what has happened?
10,000 worried women phoned the helpline on Friday, rising from 5000 on Wednesday. It sounds chaotic, with call centre staff insufficiently trained.
Up to 450,000 women will be unnecessarily worried, but with only a few worried enough to call the helpline or go their GP (although NHS England has specifically asked women NOT to go to their GP).
So, one question remains. Was Jeremy Hunt in on the game? We don't know.
If Hunt didn't understand the numbers, that makes him even more incompetent than the eye-watering levels of incompetence already set by all the members of May's Cabinet (including May herself). That takes some beating, but Hunt would have achieved it. In which case, he should resign.
Or else Hunt is complicit in the conspiracy to spread fake news. In which case, he should resign.
Meantime, the EU negotiations descend ever further into farce and tragedy.