I have been watching and waiting, with increasing despair, for an end to a disastrous 35-year experiment with our lives. I'm talking of the economic policies which have dominated our politics since Thatcher and Reagan began their counter-revolution in the 1980s. At last, in Jeremy Corbyn, I see the first signs that this may, at long last, be happening.
The sociopathic approach to economics which I call Free Market Fundamentalism collapsed and failed, big time, in 2007-8, initially in the USA, spreading to other western economies. The UK was particularly vulnerable owing to our over-dependence on financial services and the consequential destruction of most of our manufacturing industry. Ten years on, we are yet to change course.
The Evidence
And yet, the evidence of the collapse of the old order is everywhere to see:
80 dead and 200 families homeless in the aftermath of the Grenfell Tower fire. It's the natural consequence of contempt for the poor – yes, I do mean you, Kensington and Chelsea Council, and many more besides. And a disdain for proper regulation, in this case mainly fire regulations.
400,000-plus passengers left high and dry following mass cancellations of Ryanair flights. This is caused by a combination of contemptuous treatment of passengers as cash cows and disgruntled pilots with inferior working conditions.
The loss of Uber's operating licence in London, for failure to take passenger safety seriously and using unethical but (just) legal methods to deny basic employment rights to its drivers. This threatens inconvenience to users and a loss of thousands of jobs after Uber's unfair business practices decimated the traditional minicab businesses.
Young renters paying 3 times as much as their grandparents did at the same age for a roof over their heads, as a direct result of decades of a disastrously marketised and deregulated – and self-evidently dysfunctional – housing policy.
The rise and rise of the use of "inspiring" (thank you, Jacob Rees-Mogg) food banks, the majority of users from working households. This follows the introduction of vindictive changes of policy in the treatment of benefit claimants.
A highly fragmented and confusing education system with demoralised teachers as a result of a false belief that the mantra of competition is appropriate in the particular case of educating our future citizens.
Shocking and illegal levels of air pollution in our major cities, concentrated in poorer areas, as a result of under-regulation of vehicle emissions and failure to stand up to vested interests.
Rises in energy costs and rail fares and under-investment in the future resilience of our basic infrastructure, through privatisation of key areas of our economy where markets and competition simply don't work.
A worrying rise in intolerance, abuse and violence against minorities, women and political opponents. This follows decades of encouragement from newspapers owned by tax-dodging tax exiles. But it's now amplified by the more lunatic fringes of social media and the blogosphere.
There is a clear chain of causation which links each of these outcomes back to the FMF dogma, which can be summarised as "greed is good".
May and Corbyn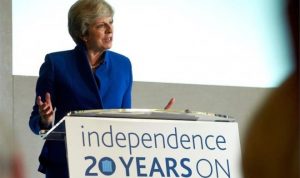 The Tories seem blind to all this, too busy tearing themselves apart over Britain and the EU to notice. Theresa May's speech today, commemorating 20 years of Bank of England independence, was largely a paean to free markets. To be fair, she did mention the importance of proper regulation. But she has been saying this for some time, and it's all words, no deeds. You get the impression that her weakened position as leader can only be sustained by continuing to bow to the gods of the status quo.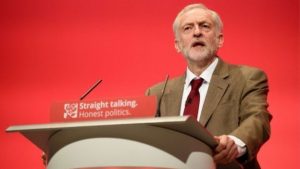 By way of contrast, Jeremy Corbyn's closing speech to the Labour Party Conference yesterday recognises that times have changed. And that only Labour has caught the mood. He is clearly determined to embrace the break from the follies of the last three and a half decades and bring us back to the true mainstream. I disagree totally with Corbyn's critics who try to paint him as some left-wing extremist. Labour's policy announcements are classic mainstream social democracy. Most of his policies, e.g. rent controls and public ownership of key infrastructure industries, are everyday mainstream politics in other European countries. And, as I have arguing in this blog for over two years, social democracy is a perfect fit for how human beings – psychologically healthy ones at least – actually think.
I hope that Corbyn and colleagues can continue to surf the wave of the realisation that things must change. And about time!