I was educated, from age 11 to 18, in a single-sex school. To make matters worse, my student days were at a single-sex college at a university where male students outnumbered female students by 7 to 1. So I spent my teens and the first part of my twenties in an environment where girls / women were hard to meet.
A 2015 post, First Doubts, touches on the fact that, in these formative years, I consider myself to have been a shy person. I leave it to those who know me to decide how well, or not, I have managed to overcome this problem in the following fifty years.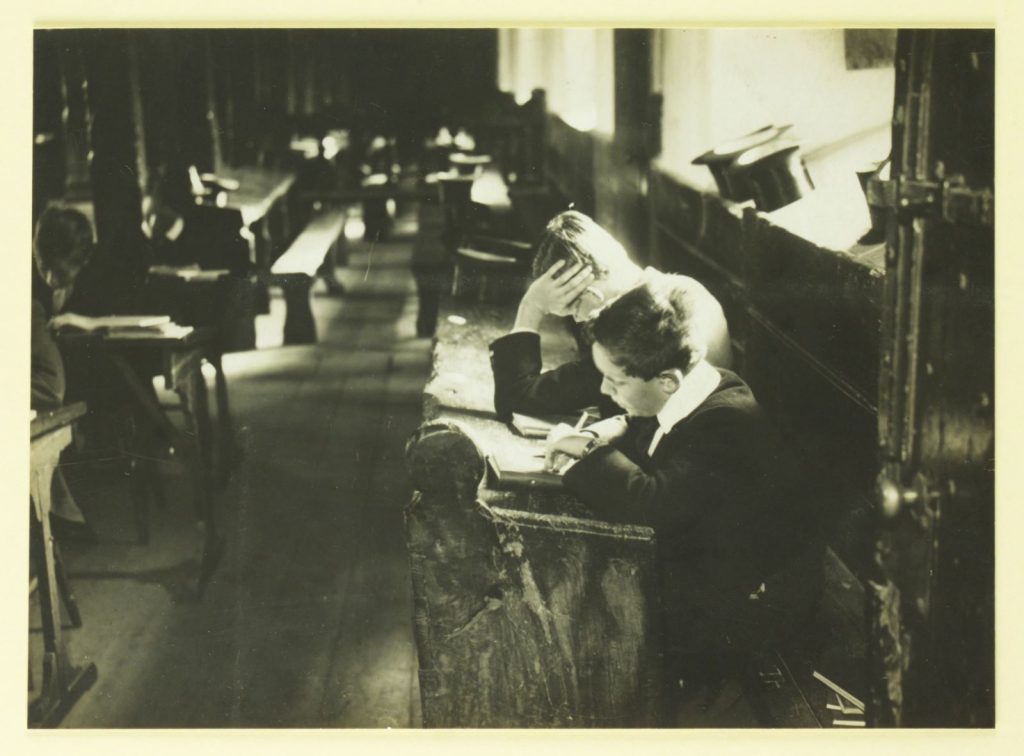 Why do I mention this now? Well, two recent news items (of which more below) prompted me to have some reflective thoughts on the psychological effects of single-sex education. The two stories both concern men who attended single-sex schools: Mark Field and Boris Johnson. Both Tory MPs: Field a minister (until he was suspended) and Johnson a backbencher (since he left the Cabinet). One a candidate for our future Prime Minister; both behaving in a misogynistic way.
The Mansion House Incident
The video of the incident involving Greenpeace activist Janet Barker and (suspended) minister Mark Field has been widely shared on social media. Here's one link:
Predictably – and sadly – the incident has already divided opinion. There are those (almost exclusively in the Tory Party and its media supporters) who take the view that Barker got what she deserved. The rest of us, me included, see this is a wholly disproportionate reaction by a privileged white man to a peaceful (but disruptive) interruption to proceedings. It's clear from the video that Field stays angry all the time he's gripping Barker's neck and pushing her out of the building. This is despite Barker's repeated  statement: "This is a peaceful protest". Field's final words when had pushed Barker out of the building are telling: "This is what happens when people like you disturb our dinner." (My emphasis.)
People like you. We can all speculate as to what exactly Field meant by this. I'm sure that, in part, he meant "people who do not share my views": the whole anger shtick at the audacity of people who challenge his rich, white, male privileged position. But there's more than a suspicion that "people like you" also refers to women; women who do not know their place.
One thing's for sure: a thug wearing a black tie is still a thug.
The Screaming, Shouting and Banging in Carrie Symonds' Flat
Which leads us naturally to incident number two and Boris Johnson. (Carrie Symonds is Johnson's current girlfriend, apparently.) Shortly after midnight last Friday, police were called to the flat where Johnson is living with Symonds. The police left after satisfying themselves that no-one in the flat was in danger.
The neighbour's concern followed loud noises of screaming, shouting and the smashing of glass or crockery. Symonds was heard to shout "get off me" and "get out of my flat". It came as absolutely no surprise to hear that Symonds had also yelled "You just don't care for anything because you're spoilt. You have no care for money or anything." The British public have a legitimate interest in the moral character of anyone standing to be our next Prime Minister.
True to form, three tabloid newspapers went into full attempts at character assassination of the neighbour who had recorded the altercation. Here's an example from the Daily Mail in one of their full-throated "make the lives hell for ordinary people exposing inconvenient truths" mode. "Guardianista" seems to be a term of abuse for Mail journalists: it feels like a particularly puerile and infantile turn of phrase to me.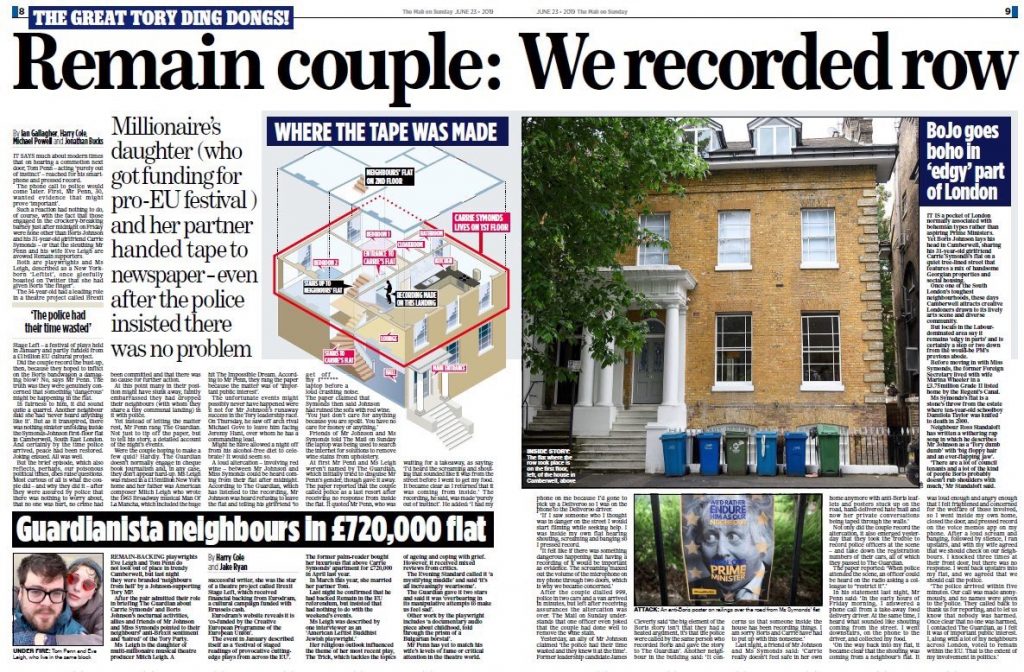 The neighbours were concerned for the safety of those involved after three tries to speak to the occupants and getting no reply at their front door. It subsequently emerged that three neighbours were concerned about the safety of the occupants.
Johnson's private life is of no particular interest to me nor is it, per se, for judging his suitability for high office. But his character, and anything which throws light on this, is of serious public concern. Oh, and a "private" life that is so loud that it can be heard by three sets of neighbours in the small hours of the morning doesn't seem to be so very private. What it reveals about Johnson's attitude to women is also relevant – and disturbing.
False Victimhood
Today's tabloids, in search of a lurid headline, are pursuing the Johnson "complicated sex life" angle. Speculation is rife. The Daily Mirror asserts "Boris 'wants to get back with his wife'".  The Mail says the opposite: "Despite bust-up, couple insist: We are stronger than ever". Meanwhile, the Sun reveals "Boris and Carrie had 4 rows in 6 weeks". Other papers concentrate on the "pressure to come clean" aspect. Taken together, it presents Johnson with an opportunity to play the victim: he's being criticised for matters in his private life, poor dear.
Some of us are old enough to remember the scandal of John Profumo and Mandy Rice-Davies, where an out-of-control sex life threatened national security. But those were different times. Perhaps, on this occasion only, the last word should go to his former boss Max Hastings, who states that Johnson is "totally unfit" for office.
So What?
What do I conclude from these two very different incidents? Well, both illustrate the anger which is aroused in people like them who carry round with them an unswerving sense of their own entitlement. In that respect, they come from a very different upbringing from me. In retrospect, I feel that my "boys only" education meant that my teens and early twenties were, perhaps, a bit less exciting than they might have been. But I hold a strong suspicion that, for Field and Johnson, their single-sex education is a factor in their misogynistic attitude towards women.