I understand that the UK has acquired a new nickname, one which is gaining in popularity across the globe. So, welcome to Plague Island.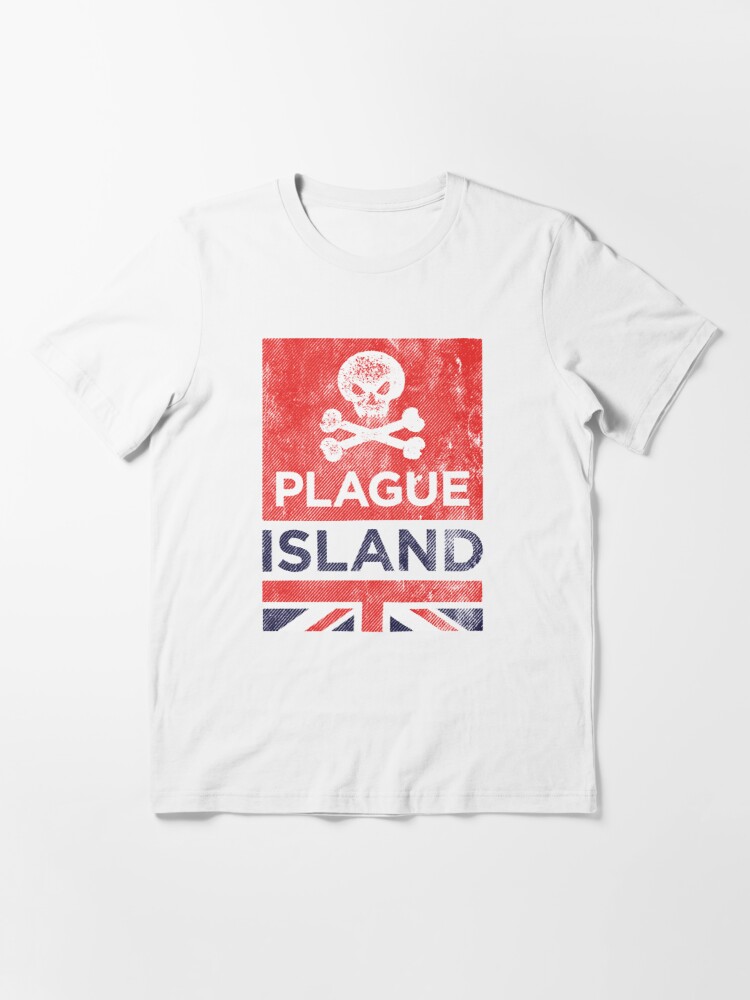 The new moniker is well deserved. Google the phrase "plague island" and the top listed links nearly all refer to Britain and how those in other countries see us. If you don't believe me, try it for yourself.
And Morocco has banned all flights to and from the UK: that's how bad they see us.
A Few Statistics
Let's just check out how we compare now with other parts of Europe.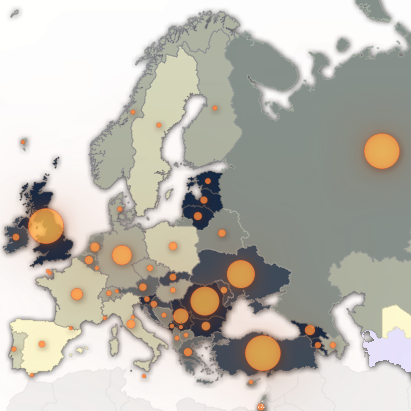 The circles represent the number of cases over the past 2 weeks. We are faring much worse than the countries compared here: Only Russia and Turkey are doing worse than us, with populations much bigger: 146 million and 86 million respectively.
And the UK's figures have been rising sharply over the past few days.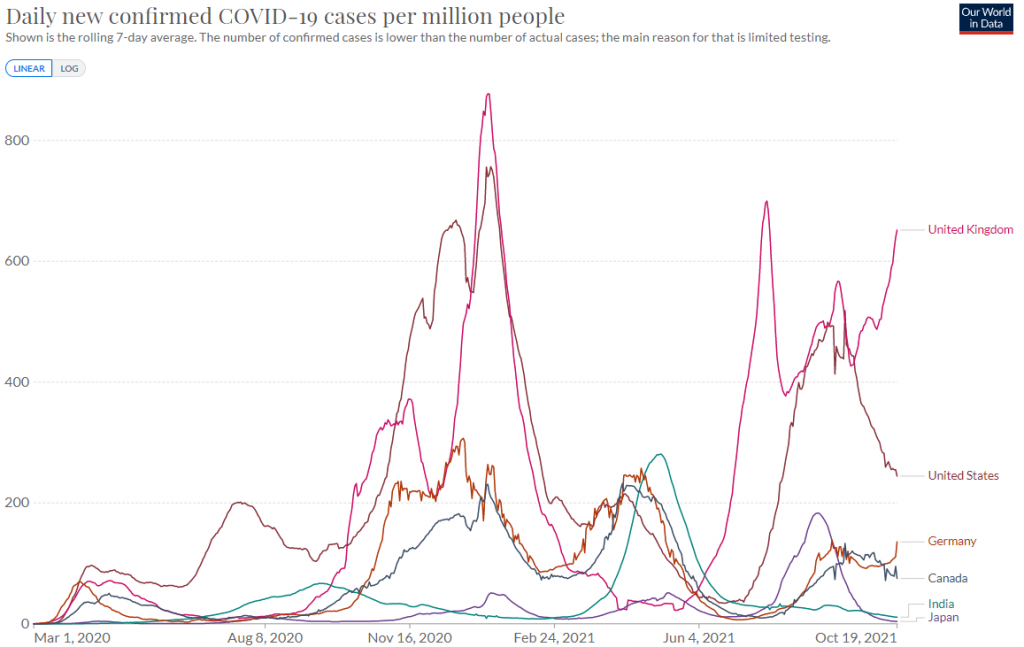 The cumulative totals of Covid cases since the start of the pandemic put the UK as the worst in Europe: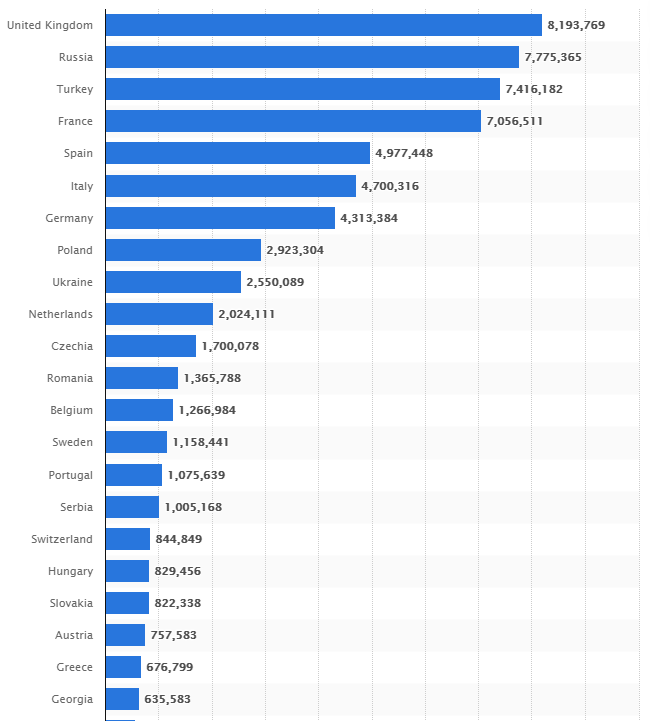 Covid Deaths
The statistics for Covid death rates (per million population) also show the UK in a poor light: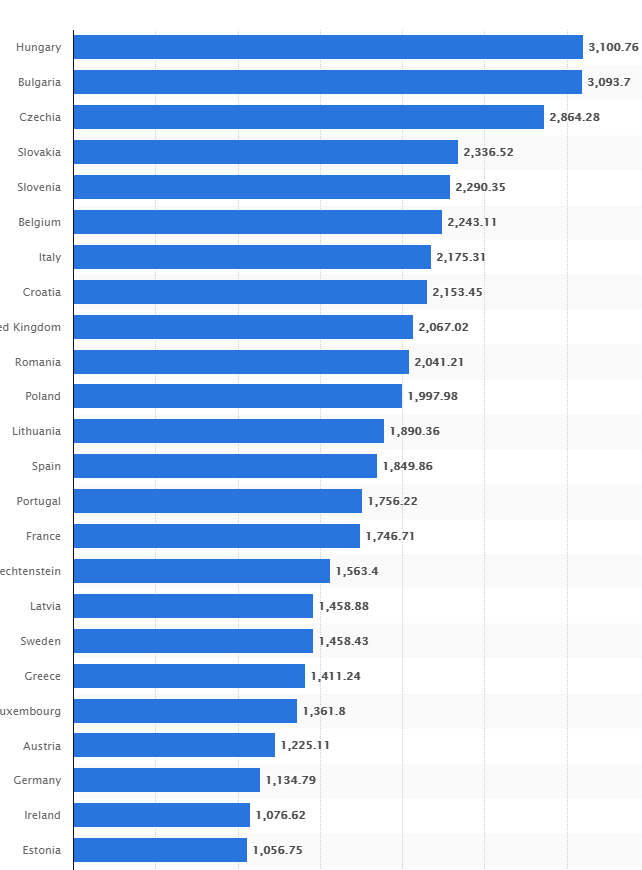 Of the comparable countries in Europe (i.e. with similar levels of living standards), only Belgium and Italy have higher death rates.
Vaccinations
The British Government has banged on repeatedly about our early start in vaccinations, but the truth is that we became too complacent in our self-congratulation. The table below shows how we have been overtaken in our vaccination programme by other countries: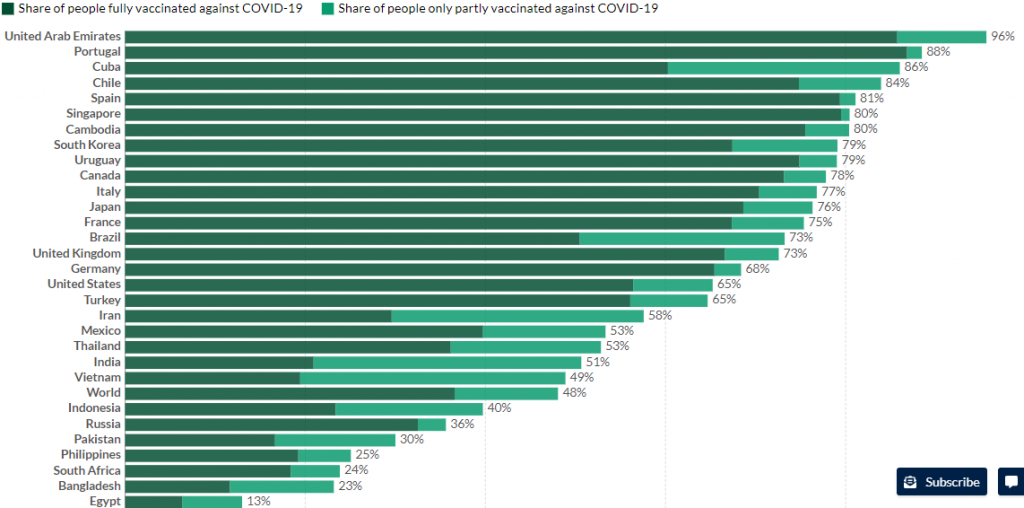 The UK has slipped to 15th place in the world table and European countries such as Portugal, Spain, Italy and France – the last a country with a long history of vaccine scepticism – are now ahead of the UK.
A graph showing our vaccination rate over time gives a clear picture of that complacency:

As one of the half million people entitled to receive an additional pre-booster "third primary" jab, I went for mine yesterday. The earlier impression I had with both my first and second vaccinations back in February and April was of a large, well organised operation with committed people energised to help get us out of the pandemic. Yesterday's session was a much more low-key affair. I clearly blame the government for taking their eyes off the ball and engendering a more complacent atmosphere in the country.
Conclusions
So, what do I conclude from all this?
The early stages (from January to July this year) of the vaccination programme was excellent and an example of what can be done by the NHS, its staff and volunteers when there is a crisis to be dealt with. Every other aspect of the handling of the pandemic has been handled disastrously by Johnson and his clique of incompetents.
Britain is viewed with pity and incredulity everywhere around the world: pariah status is all but assured. But right now, Plague Island is the best we deserve.