Two news items in the past week have given me a faint hope that we may finally begin to put this country on a better, by which I mean a fairer, way of running things. But both also provoked in me the reaction "about bloody time!"
The first news item broke about a week ago, when my wife and I were out of the country on a short break but the repercussions have rumbled on all week. It gives me hope that one key part of what I call "feudal detritus" may, at last, be beginning to crumble. The second item has already been misrepresented in the right-wing press as a "return to the 1970s" but may more accurately be described as a return to the spirit of the immediate post-war period in 1945.
The Banned Old Duke of York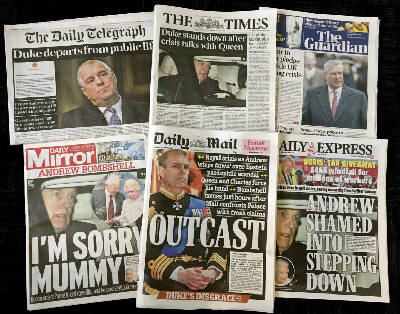 It comes at something of a relief to see that many more people are waking up to the reality of the true character and skills of Andrew Windsor, second son of our current Head of State. People who know me can confirm that I have been banging on for years about two – previously inconvenient – truths about the man. One is that he is extremely stupid intellectually. The other is that he is morally reprehensible, arrogant and lacking in any self-awareness or concern for others. He reminds me very much of another pampered, spoiled son, over-indulged by his ever-loving mother: Mark Thatcher (of "lost in the desert" fame).
A decade or so ago, Andrew had a "job" ludicrously entitled Britain's "Special Trade Envoy". This entailed him jet-setting around the globe at taxpayers' expense, staying in posh hotels and dining in expensive restaurants with some of the worst dictators and Human Rights abusers on the globe. And its purpose? To flog them British arms. In the end, his lack of intellect and self-awareness made him a diplomatic embarrassment and the role was quietly dropped. My favourite quotation from this period was from an obviously exasperated senior civil servant who was involved in these publicly-funded jaunts. Speaking of our envoy, he said "there is no evidence of any cerebral activity upstairs". I just love that use of the word "upstairs".
Anyway, a combination of a "car crash" TV interview (which Windsor thought had gone quite well!) and close association with a sex offender has finally woken people up to the man's true character. He is now "suspended indefinitely" (sort of, it looks like) from his public "duties". His big brother seems to have had the final word on this.
This "I told you so" moment is all very well. But the real significance is in the wider implications for the future of the monarchy as an institution. This is spelled out more fully in an interesting article on Friday by Gaby Hinsliff. As she says: "If the monarchy cannot put its house in order, it should not be surprised if the nation ultimately seeks to do it for them". Republicans like me can only hope this is the beginning of the end.
The Labour Party Manifesto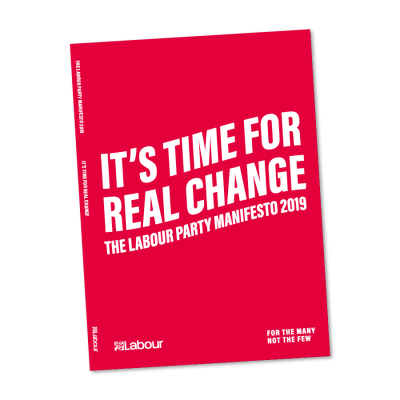 A lot has already been said about the Labour Party Manifesto, launched this week. The usual hostile suspects in the press have used words like "unaffordable", betraying their lack of understanding of economics and the damage done by 40 years of free market fundamentalism. Funding sources have been identified by Labour to explain how the policies in the manifesto will be paid for. It's evident that Labour has learnt the lessons of the false basis of economic thought over the past four decades; the Tories plainly have not. The Overton Window is shifting back in Labour's direction.
For the first time in decades, I feel genuinely excited to see a set of priorities which chime well with my own thoughts. Here are just a few of the details which provoked in me an "at last!" reaction:
The prospect of rescuing the struggling NHS with a stable, above inflation increase in funding for the next few years.
All schools brought back under democratic control. (I was at a briefing session for Governors earlier this week: there was much complaining about the confusion of responsibilities and lack of control introduced in the Gove / Cummings era.)
Closure of tax loopholes for private schools: educating only those who can afford to pay is self-evidently not per se a charitable objective.
Higher tax contributions to the common good from the wealthiest 5% (a figure fact-checked and confirmed by the BBC on Friday).
The proposed "green new deal" to create high-skill jobs and tackle the greatest threat of all: that to our planet and its environment.
Re-humanising the welfare system by removing its most vindictive policies (sanctions, benefits cap, bedroom tax) introduced in the Cameron years.
A public health approach to drugs policy – hopefully one which is finally evidence-based.
Renationalisation of the natural monopolies of energy, water, railways and the 21st century sine qua non, broadband supply.
Last but not least, building many more genuinely affordable homes, including a target of 100,000 new council houses a year. (From the 1950s to the 1970s, Labour and Conservative government oversaw up to 300,000 new homes a year, so it can be done, if Tory dogma doesn't get in the way.)
There's more to like, but that will do for now. One economics editor has described the manifesto as "radical, populist and worthy of Attlee". High praise indeed!
Living in Hope
One lesson to be learned from the Andrew affair is that the Establishment always looks after its own. Labour's manifesto paints a bold vision of how it doesn't always have to be this way. Maybe, just maybe, there is finally some room for hope to replace frustration and despair for our future political landscape.
A century ago, in The Ragged Trousered Philanthropists, Robert Tressell wrote these lines:
"..All who live under the present system practice selfishness, more or less. We must be selfish: the System demands it. We must be selfish or we shall be hungry and ragged and finally die in the gutter. The more selfish we are, the better off we shall be."
One hundred years ago, income and wealth inequality were at a peak. In the 20th century, it took two World Wars to reduce that inequality significantly and to remind ourselves of our common good. (Part 3 of Thomas Piketty's 2013 book Capital in the 21st Century explains this in some detail.) In the past 40 years, the false economic policy choices introduced by Thatcher and Reagan resurrected the moral sanctity of selfishness. "Greed is good" was the takeout line from that approach. As a result, over those 40 years, inequality levels have returned to levels last seen just before the outbreak of the first World War. No wonder Tressell's words seem so fresh and relevant to today. Labour's manifesto offers an opportunity to move economic policy in the UK to a healthy position, in line with how humans actually think and behave. (See my 2015 posts Being Human II: the Four Cs and Why George Osborne is Only Half Human for an explanation.) We can but hope.