It seems the pathologically oversized ego got the better of him. Leaving by the front door, cardboard box in hand, is self-evidently the work of a poseur and narcissist. Well, he got his page one headlines and I'm doing him the perverse service of reproducing the moment below. But the image is too delicious to pass over.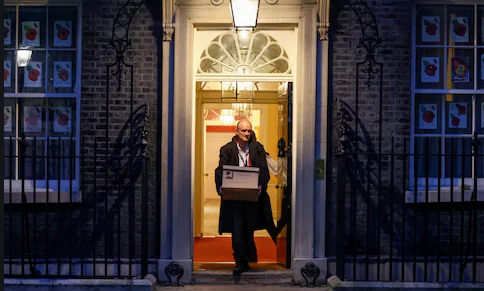 Good. Good riddance.
Career psychopath
I rarely agree with former PM David Cameron. But it was he who first coined the term "career psychopath" for the man-with-a-box shown above. The abbreviation "CP" seems to lend too much of an air of "cool" to such a repellent, twisted creature. So I'll use the name "Seepy" from here on. It seems quite appropriate: the malign poison he exudes seems to have seeped out all over the body politic of this country. And it rhymes with creepy.
From education, to Vote Leave, mismanagement of the Covid pandemic, the needless deaths and job losses shown plainly that, whilst he may have been an effective campaigner and a "breaker and shaker", when it comes to actually governing a country, his presence has been pure poison.
Henchman at Education
I personally first became aware of Seepy ten years ago, when he was Gove's henchman at Education. His wild ideas clearly struck a chord with the former Murdoch hack Gove. The changes introduced in these years have wreaked havoc with our education system: I estimate it will take twenty years to recover once reversal of these policies has started (which, of course, it hasn't yet). The fragmentation and disruption to schools in particular has produced not one scrap of evidence that improvement to outcomes has resulted. And the marketisation of university life has led to some perverse results. As a result of high student fees and hence competition for students, we have a generation with high student debts. Because of Covid, we have extra students crammed into accommodation, virtually as prisoners as the virus swept through our campuses in late September and October.
I distinctly remember a conversation I had about seven years ago with a former Local Education Authority Chief Education officer. She lamented the "responsibility without power" dilemma created by Gove's newly-introduced dogma-driven policy. Since the Gove changes, Local Education Authorities are forbidden from opening new LA-run schools. But they retain statutory responsibility to ensure all children in their area have a school place. So, where demand exceeded supply, she had to persuade, cajole and beg unaccountable Academy Trusts to expand or build new schools to meet the need. This was, and is, clearly a more difficult and stressful job than when Local Authorities controlled all the "levers". It's not at all clear to me how this loss of control benefits children's education.
How much of this was the brainchild of Seepy personally, I just don't know. But it's easy to imagine his enthusiastic campaigning for this piece of market-inspired dogma.
Vote Leave: Lies and Misuse of Data
Much has been written already about the lies told by the Vote Leave campaign, from the £350m for the NHS through to the 20 million Turks about to "invade" Britain once Turkey joined the EU. This latter was presented almost as an established fact: the truth was that under Erdogan, Turkey was moving further and further away from meeting the EU's exacting criteria for membership.
And, of course, Vote Leave was fined £61,000 by the Electoral Commission for breaking spending limits with some very dodgy shifting around of funds. Unfortunately for true justice, the level of penalties available to the Electoral Commission were based upon General Elections, where each malpractice potentially only affects one of 630 constituencies. The referendum result, self-evidently, affected the whole United Kingdom.
And it was Seepy who headed the Vote Leave operation and should carry the can for its misdeeds.
Number Ten: Reign of Terror
The scope for misdeeds continued on a nationally significant scale when Seepy was put in charge of running Johnson's Downing Street operation when the latter became Prime Minister. All the departmental special advisers, in a break from the previous norm, were told they had a dual responsibility: now reporting to Seepy himself as well as their own Minister. One outfall from this was the resignation of Savid Jared as Chancellor who saw this as a diminution of the power of the treasury.
Another fallout from this change was the incident in August 2019 when Sonia Khan, former Spad to Jared, was frogmarched from Number Ten on Seepy's orders. Khan made allegations of his aggression and bullying behaviour. She has now reached an out-of-court settlement "for a five-figure sum" in lieu of an employment tribunal hearing due next month to hear her claim for unfair dismissal. Seepy was named as a respondent in the case; Cabinet Office lawyers tried – unsuccessfully – to get his name removed, presumably so that the full story of Seepy's behaviour was not presented in open court.
And Then Came Covid
Johnson is notorious, from both during and before his time as Mayor of London, for being lazy and not on top of the detail of running his office. So it was no surprise that his Number Ten Cabinet Office as proved to be dysfunctional and incapable of governing the country. The pressures of managing the pandemic have made this problem a lot worse, and the results: worst death rate in Europe, biggest hit to the economy, are in plain view. It's a matter of open record that Johnson has been over-dependent, to an unhealthy degree, on his chief adviser. It must remain a matter of speculation how much of this dysfunction is a result of the chaos and infighting which Seepy has encouraged by his behaviour.
The Ballad of Barnard Castle
I think few now doubt that the poor adherence to Government guidance in the pandemic by sections of the public is due in part to the famous rules-busting trip to Durham and Barnard Castle. Certainly senior police officers quote the incident being used as justification for rule-breaking when their officers apprehend members of the public. It follows, as night follows day, that people have died – and continue to die – as a result of this one incident. Worse, Johnson's attempt to defend the actions of his henchman has undermined the whole moral authority of the UK government.
EU and US Trade Deals
There are now fewer than 50 days until the UK is scheduled to finish the transition period and "fully" leave the EU. The government, businesses and those responsible for new border IT systems are woefully unprepared. How can companies (including logistic firms) prepare for something, the details of which are still to be negotiated?
Leaving the EU was the raison d'être of the Johnson government and of Seepy's appointment to a leading role. Some damage limitation could be achieved by negotiating a trade deal with the EU in the extremely limited time left. Johnson and his sidekick seem more emotionally attached to a deal with the US, with food poisoning, threats to UK farmers' livelihoods, NHS creeping takeover by US private health companies as clear threats. Their dreams were based on their soulmate across the water, one Donald Trump.
But there's just one problem with these dreams. Trump lost. And Joe Biden, his successor-to-be takes a different view. Firstly, he is proud of his Irish roots and very strongly opposed to anything which might affect the Good Friday Agreement. Meanwhile, Trump, the Arch Bunker of populism, is in denial, skulking in the Twituation Room in the White House.
The received view was that Seepy was keen on No Deal with the EU. Johnson is, presumably a tabula rasa in this respect: he is, after all, the journalist who wrote two versions, Remain and Leave, of his article for the Daily Telegraph at the start of the referendum campaign. So, with Seepy gone, the betting shifts towards a last-minute deal. Johnson will dress this up as a great feat of negotiating: just one more lie, like "oven ready" was last autumn.
Good News
There were, of course, two items of good news in the past week. The announcement of an effective vaccine was one; the departure of the man at the centre of this blog post was the other. The Covid vaccine needs to be stored and transported at -70 degrees. Let's hope the lorries carrying them don't get stuck on their way from Belgium (where the vaccine will be made). Meantime, stay safe and stick to the rules! (Even if some don't!)
His influence has left lasting damage, first in education, then the economy (through leaving the EU single market) and then health (through dysfunction and chaos at the heart of government and the loss of government authority from Barnard Castle).
I'm very glad he's gone. But the damage he's done will be with us for some time to come.