It has been some time since we heard about the Mr Men. Lots of exciting things have been happening! But first, there are some new Mr Men and Little Misses to introduce.
Mr Custard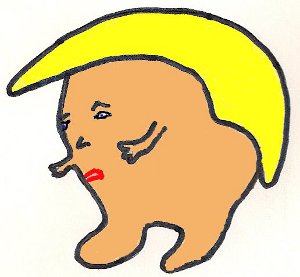 Mr Custard lives in another land over the sea. His brain is made out of custard. You know, custard is sometimes a bit runny. Sometimes it's thick. Mr Custard's custard is thick. Very, very thick.
One day, when he was a little boy, his teacher wanted to teach him a new word. It was an adjective: a describing word. Mr Custard only knew five describing words: great, bad, fake, false and failing. When his teacher tried to teach him the new word, Mr Custard's brain got hot. Very, very hot! Some of the custard boiled over out of his brain and flowed over the top of his head. Oops! Because it was so thick, it set very hard on his head. It has stayed there ever since!
The fright of the boiling custard made other changes, too. Mr Custard's hands stopped growing and stayed very, very small. And Mr Custard could no longer say the word "cat". From now on, he could only say the word "pussy" instead.
Apart from his brain and hands, the rest of Mr Custard's body kept growing until he looked like a grown-up. He had a job building big buildings. He tried building them out of custard first, so that he looked better standing in front of them. But, slowly, slowly, the custard buildings sagged. They sagged more. Then, slowly, slowly, they fell down, until they were just gloopy puddles of custard on the ground! The people who lived in the buildings were not happy.
Then he had an idea. His daddy was very rich and had a lot of gold. So, Mr Custard made his buildings out of gold. Hurrah! He stood in front of the gold buildings. His custard head looked less silly. And the gold was all shiny too! Mr Custard smiled and waved his little hands in the air.
Mr Custard lives in a land called Merry-Ka. Which is a funny name, because it's not really merry. Every 16 minutes, someone in Merry-Ka shoots someone else dead. No so merry!
Mr God
Mr God knew everything. He was so clever that sometimes he thought he was three people! Funny Mr God! But there was a problem. The people couldn't agree what he looked like. Some people thought he looked like a cloud. Others thought he looked like a slice of burnt toast. Others even thought he looked like a dog's bottom!

But they all agreed on two things. First, he must have long arms. Very, very long arms. Because he could hold the whole world in his arms! Clever Mr God! And they all agreed he was good. Very, very good. Even though, if he was so good and clever, he let bad things happen. Oh dear!
Little Miss I-Know-Best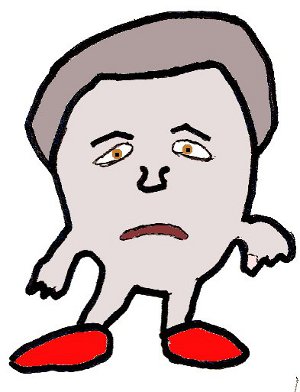 Little Miss I-Know-Best had a daddy who was a vicar. Daddy's best friend was Mr God. Daddy had told her that Mr God was born in a stable. When she was small, Little Miss I-Know-Best wondered about Mr God. When he was born, did he float down like a cloud from the sky? Or did he just pop up, like out of a toaster? She tried not to think about her third thought about how Mr God was born.
Daddy wanted to be more like Mr God. So he knocked down his house next to the church. In its place, he built a stable. He did not want it to fall down on their heads. So he built it strong. A strong stable. And he didn't want it to be blown over by the wind. So he built it stable. A stable stable. Little Miss I-Know-Best lived in a strong and stable stable.
Daddy told Little Miss I-Know-Best about how clever Mr God was. As he was Daddy's best friend, she listened to everything Daddy said, so that she knew best. Then she wouldn't need to listen to what other people thought ever again! She would know best. And she wouldn't have to keep meeting people. She hated that! Unless, of course, it was just to tell them what to do. She knew best!
Mr Fox-Up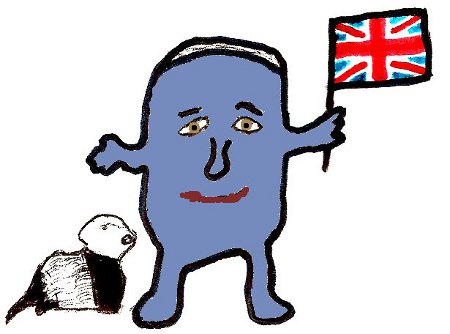 Mr Fox-Up lived in a den. It was a special den where all the clocks were a hundred years slow! In Mr Fox-Up's den, the people in Room Number Nine were still the rulers of the whole world. They had big ships, big guns and went around telling everyone else what to do. More often than not, they had told him where to go!
Mr Fox-Up had a special friend, Mr Ferrity, who was a ferret. Mr Ferrity followed Mr Fox-Up wherever he went. He also ran up drainpipes and up trouser-legs and went into all sorts of places he shouldn't go. Mr Fox-Up didn't seem to mind. He had an important job working for Mr Two-Face. He was in charge of one small rowing boat and a pop-gun. This was all that was left of the great armada in Mr Fox-Up's den. But Mr Two-Face said Mr Fox-Up had broken all the rules. So Mr Fox-Up had to go. Nobody expected to hear from him again!
Mr Breaks-It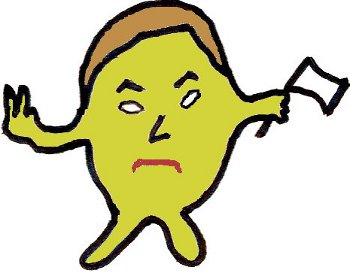 Mr Breaks-It is one of the Nasties. Most Nasties are Posh. Mr Breaks-It isn't Posh. He grew up in a place called Cow-n-Silly State. The Nasties think is a wild and lawless swamp. A long time ago, Mr Breaks-It and Mr Two-Face fought to be leader of the Nasties. Mr Breaks-It lost. (Mr Fox-Up was, true to form, knocked out earlier in the fight.) Mr Breaks-It didn't do much in our story for a long time. But we will meet him again soon.
Little Miss Traffic-Light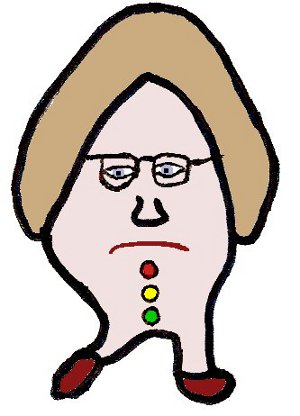 Little Miss Traffic-Light's favourite colours are amber and red. Sometimes, but not very often, she pretends to like green, too. Some people who really like green said she had fibbed to people in the Voting House about liking green. Little Miss Traffic-Light is Posh, like most of the Nasties. She was given a present by her sister: a money-making tree. But this and some other money-making trees died while she was looking after them. Little Miss Traffic-Light is a bit like a mini version of Little Miss I-Know-Best, as you will see soon.
The Other Mr Men
You may be wondering by now: what happened to the other Mr Men from our earlier story? When we left them, Mr Two-Face had just sulked off as leader of the Nasties in Room Number Nine. At the end of the story, we asked the question: "Will there be more creeping and back-stabbing?" Oh yes, there was!
After Mr Two-Face sulked off, the Nasties needed a new leader. Mr Look-At-Me was the favourite, because he had been shouting "Look at me!" for so long. Mr Look-At-Me thought Mr Mad was his best friend. Everybody was very surprised when Mr Mad said he wasn't, and stabbed Mr Look-At-Me in the back and said he wanted to be leader himself!
So, five people put their hands up to say "Choose me please!" Mr Mad, Mr Fox-Up, Little Miss I-Know-Best, who we've met before, all put up their hands. And there was Mr Crab, who nobody had heard of. So he walked sideways all the time so people would notice him. And finally, there was Little Miss Loathsome. All you need to know about Little Miss Loathsome is in her name. Yeugh! Enough said!
When the Nasties voted, nobody was surprised when Mr Fox-Up had hardly any friends and was told to go. Mr Crab and Mr Mad were nearly as unpopular, and off they went too! Mr Crab scuttled off sideways. And Mr Mad sneaked off in the middle of the night. This just left Little Miss Loathsome and Little Miss I-Know-Best. All the Nasties were very excited! There were now just two Little Misses left in the contest! Then Little Miss Loathsome said something loathsome about Little Miss I-Know-Best. So, she had to go. That just left Little Miss I-Know-Best to lead the Nasties.
What Little Miss I-Know-Best Did Next
First Little Miss I-Know-Best said "hurray!" Then she chose her team of helpers. She told Mr Pale-And-Thin and Mr Mad to go far, far away. Mr Mad went to work as a writer for Mr Monster. But Mr Pale-And-Thin set about getting lots of jobs. He didn't mind what the job was, as long as it paid LOTS of money! Greedy Mr Pale-And-Thin! Just a few weeks ago, he got ANOTHER job as well! This one is writing for a newspaper. There he can say lots of nasty things about Little Miss I-Know-Best, because she sacked him. Nasty, spiteful Mr Pale-And-Thin!
The New Helpers
Little Miss I-Know-Best chose some new helpers. She chose Mr Hammond-Organ to replace Mr Pale-And-Thin. Mr Hammond-Organ spent all day playing sad songs about how we had no money. These songs were often in a different key from all the other Nasties. This made Little Miss I-Know-Best cross. She thought she would get rid of Mr Hammond-Organ soon.
Mr Hammond-Organ was a bit boring. Little Miss I-Know-Best wanted to make things a bit more exciting, like running through wheat. How exciting was that! So she had a thought. "I know", she thought, "I'll choose some helpers that no one could have guessed!" And so she did.
The people in the other 27 rooms of the Big House bought most of the things the people didn't buy themselves. After she burns the bridge across the little stream – which hasn't happened yet – the people would need to find some new people to buy them instead. She needed someone to help. "Ah!" thought Little Miss I-Know-Best. "I'll choose someone that no one will ever trust again! That would be fun!" So she chose Mr Fox-Up for the job! Funny Little Miss I-Know-Best!
But her fun didn't stop there. Oh no! She needed someone to make sure the bridge across the little stream was well and truly broken. So she chose Mr Breaks-It! "He has the right name", she thought. "And it would teach Mr Two-Face a lesson for leaving me with all this mess to clear up." Funny, funny Little Miss I-Know-Best!
But her best fun was still to come. She needed someone to talk to all the other leaders in the other lands, so that we could still be the best of friends. So she chose Mr Look-At-Me! Funny Little Miss I-Know-Best! What a joke! All the people in the other lands saw the joke too! They laughed and laughed until their sides ached and their heads turned to jelly! What fun!
Little Miss I-Know-Best smiled. What could possibly go wrong?
Next Time…
Next time, we will find out how Little Miss I-Know-Best got on with her new plans. Will it all be easy, like Mr Fox-Up and Mr Mad said? Would we still be friends with everyone? Will everyone think Little Miss I-Know-Best knows best? Watch out for the next topsy-turvy part of the story!