A lot has happened since the last time we met the Mr Men!
The Big House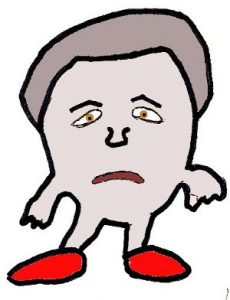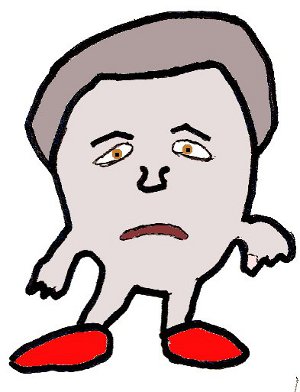 The Big House still has twenty-eight rooms. But the people in the room across the little bridge, room Number Nine, are getting crosser and crosser. They shout at each other a lot and can't agree about anything. Little Miss I-Know-Best had come to an agreement with the people in the other 27 rooms. But she needed the people who met in the voting corner of Number Nine to agree. Everyone had agreed that these people's views were "sovereign", which means they get to choose on behalf of everyone else and that's it.
The trouble was, the people in the voting corner said "NO!" to her plan. And then they said "NO!" and then "NO!" a third time. So the Nasties agreed they needed a new leader. Bye-bye, Little Miss I-Know-Best! It seems you didn't know best, after all!
The Nasties Vote
The Nasties have a funny way of choosing a new leader. At first, everyone who wants to be leader throws their hat into the ring. Not a real ring. Just a pretend one. The hats aren't real, either. But, anyway, ten people threw their not-real hats into the not-real ring. We have met two of these before: Mr Mad and Mr Look-At-Me. You may remember, Mr Mad stabbed Mr Look-At-Me in the back last time, saying Mr Look-At-Me was too naughty to run room Number Nine.
We shall be meeting four more Mr Men and Little Misses very soon: Mr Doormatt, Mr Jagged Savage, Little Miss Loathsome, and Mr Rabid. They also said they would like to lead the Nasties. Also in the race were Mr Harpic (who was round the bend), Mr Front-Bottom (of rhyming slang), Little Miss Runavay and Mr Roary-Lion. Mr Roary-Lion didn't really roar like a lion. But his hair looked a little bit like a lion's mane, and so his name suited him.
At first only the Nasties allowed in the voting corner have a say. Their job is to vote (or stab) until only two people are left. These were Mr Look-At-Me and Mr Front-Bottom. Then all the Nasties vote for the winner while everyone else looks on and cries helplessly.
Mr Look-At-Me Again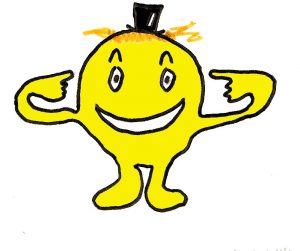 Mr Look-At-Me won, chosen by the Nasties to lead the people in room Number Nine out of the Big House. Some of Little Miss I-Know-Best's helpers said they would try to stop Mr Look-At-Me burning down the little bridge to the other rooms. Mr Hammond-Organ said he would play mournful tunes on his Hammond organ. That would do the trick.
"Do or die!" said Mr Look-At-Me. But he needed to choose his helpers, just as Little Miss I-Know-Best had done three years earlier. Only this time, Mr Look-At-Me did something different. He only chose people who were mad or just changed their minds to stay as a helper. Let's meet the new helpers.
Mr Jagged Savage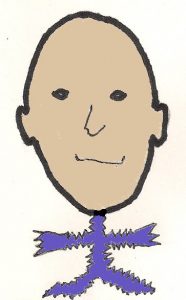 Mr Jagged Savage was put in charge of all the pennies in room Number Nine. This was a Top Job. Mr Jagged Savage is made up of two parts. His head is a balloon. His body is very sharp and jagged: the jagged edges had been made very sharp when he was told by Little Miss I-Know-Best to be Hostile to everyone.
Mr Jagged Savage knew that, if his head touched his body, it would go BANG on the sharp jagged edges. So he learned how to nod his head carefully. But he could not shake it, in case it burst. But Mr Jagged Savage was happy. He was still a helper and had all the head movement he needed for when he met Mr Look-At-Me!
Mr Rabid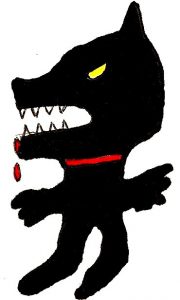 The second Top Job went to Mr Rabid. This was to talk to all the leaders outside room Number Nine. Mr Look-At-Me once had this job, but he did it so badly that he left.
Mr Rabid is a dog. A very fierce dog. He snarls all the time. Mr Look-At-Me thought that Mr Rabid might make his own time in this Top Job look not so bad. We shall see! To make himself more fierce, Mr Rabid sometimes adds extra letters "a" to his name, like "Raabid". Once he got so carried away, he spelled it "Raaaaaaaaaabid!"
Mr Rabid is not bright. He spent months coming up with an agreement from the other 27 countries to help reduce the damage caused by smashing down the little bridge. He then voted against his own plan! Everybody knows that a Rabid dog is a mad dog! I don't suppose the leaders in other countries will be keen to talk to Mr Rabid again.
Little Miss Pretty Petrifying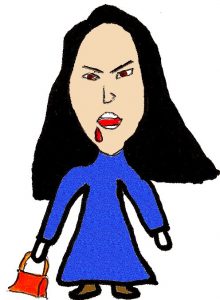 Little Miss Pretty Petrifying has the third Top Job. The job is to ensure that all the people in room Number Nine behave and to keep foreigners from crossing the little bridge. She had only two jobs outside politics. Both were to make the companies look better, one in tobacco and the other in alcohol.
She helped to write a book called Britannia Unchained which said a lot of silly things, such as the workers in room Number Nine were "the worst idlers in the world". Little Miss Pretty Petrifying is not looking to make new friends!
Mr Doormatt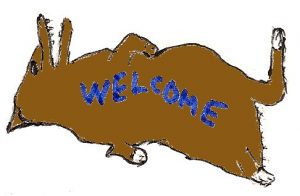 Mr Doormatt is another dog – a very submissive dog! He is in charge of making sick people better. He kept this job by letting everyone walk all over him. When he sees anyone with the name Big Pharma, he rolls over on his back and lets them take any part of him that they think will make them the most money.
Mr Doormatt should not be trusted to look after anyone – even himself!
Little Miss Don't Trust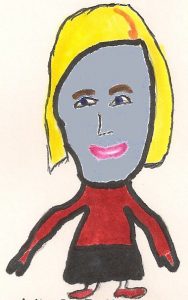 Little Miss Don't Trust also had a hand in the Britannia Unchained book. People have said the book is no good because the authors were too lazy to do any research before they wrote it. What a silly way to write a book!
She takes over her new job at International Trade from Mr Fox-Up, whom we've met before. Mr Fox-Up was very bad at his job, so Little Miss Don't Trust doesn't have to work very hard to do better!
Little Miss Loathsome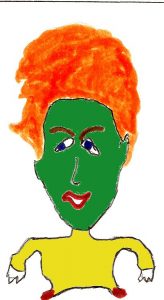 Little Miss Loathsome has a job where she is supposed to look after business. Her new boss, Mr Look-At-Me, once famously said a very rude word about business. Now, Little Miss Loathsome is confused. What exactly is she supposed to do?
She has decided to do what she does best and just be loathsome. If she tries anything harder than this, her head will explode!
Little Miss Bilious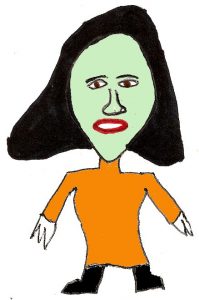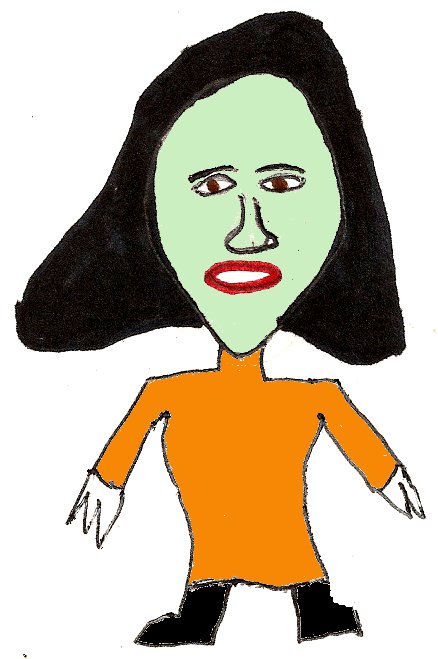 Little Miss Bilious has a bilious-looking face. She has a job looking after all the trees and the flowers and the rivers and to stop the world getting too hot. She plans to do this by being sick all over them.
She once had a job working for Mr Two-Face which she didn't understand. The thought the "Good Friday Agreement" was just about which Easter eggs to buy. And she thought it would be good to burn down the little bridge connecting room Number Nine to the other 27 rooms. She didn't care that most of the people she was supposed to be looking after didn't agree.
Perhaps she will be better at being sick over things.
Mr Stupid-Boy-Pike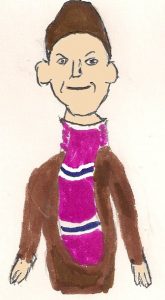 Mr Stupid-Boy-Pike once had a job selling fireplaces. When he was at school, he used to take his pet spider to school. He thought this would scare and impress the other children. Instead, they just kept away from him.
Little Miss I-Know-Best gave him a job standing in front of big toys like guns, warships and aeroplanes. He liked doing this. He also tried to sound frightening by showing people his spider and saying tough things like "shut up" and "go away". Everyone thought he was a bit stupid.
This made him the obvious choice to be in charge of all the schools. When the teachers heard this, they all laughed and laughed. They thought it was a joke. Then they were told it was not a joke. So they all cried and started looking for new jobs. Who will teach the children in room Number Nine? Perhaps Mr Stupid-Boy-Pike can teach some spiders to do it!
Little Miss Rudderless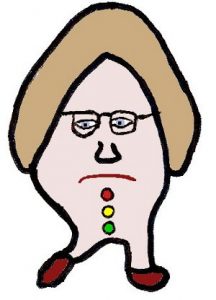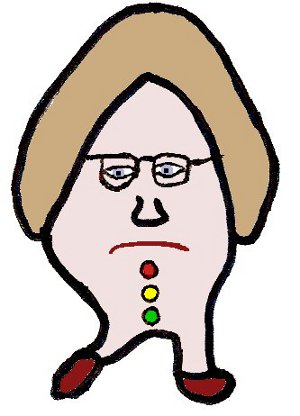 Little Miss Rudderless used to be called Little Miss Traffic-Light. But now she has changed her mind about Mr Look-At-Me to keep her job. So she has a new name. Her job is to maintain the thumbscrews and manacles at the Department for Work and Pensions. Officially known as Sanctions, these and other instruments of torture are used under the "Hostile Inquisition" scheme. But only on people who are wicked enough to be poor or disabled.
Little Miss Rudderless is a Marxist and likes to quote from the great thinker. "Those are my principles, and if you don't like them… well, I have others" is her favourite.
Mr Mad (Again!)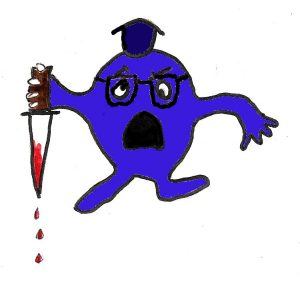 After stabbing him in the back, Mr Mad is now once again best friends with Mr Look-At-Me. So Mr Look-At-Me has given him a new job in his team. His new job title is Chancer of the Dutchie on the Left Hand Side. This means he is free to do what he likes. What in practice will happen is this. Mr Mad will stab in the back anyone who disagrees with his new best friend and Great Leader. This includes stabbing himself or the Great Leader if that pesky little bridge isn't burnt by Halloween.
The Mad House
The leaders of the other 27 rooms in the Big House have a new name for room Number Nine. They call it the Mad House. I think, children, (oh, and, by the way, sorry about your future…) that you now know why. Sweet dreams!